The HEXO Elixir CBD MCT Oil Spray is advertised as a 55mg/ml CBD and 2mg/ml THC CBD oil, making it one of the strongest CBD oils I've come across.
I purchased two bottles of this HEXO CBD oil on two separate occasions. My latest bottle came in at 55.4mg of CBD per ML and 2.76mg of THC per ml.
The HEXO CBD Oil Dosages
A little bit of math is required to figure out your dosing with this Elixir CBD oil spray…
The spray bottle is a 15ml bottle and HEXO claims you can get 150 sprays per bottle. This means each spray is roughly 0.1ml.
When taking CBD oil I am looking to take between 10-20mg of CBD in the morning.
With each spray being 5.54mg of CBD I would need between 2 and 4 sprays, depending on the dosage I was looking for.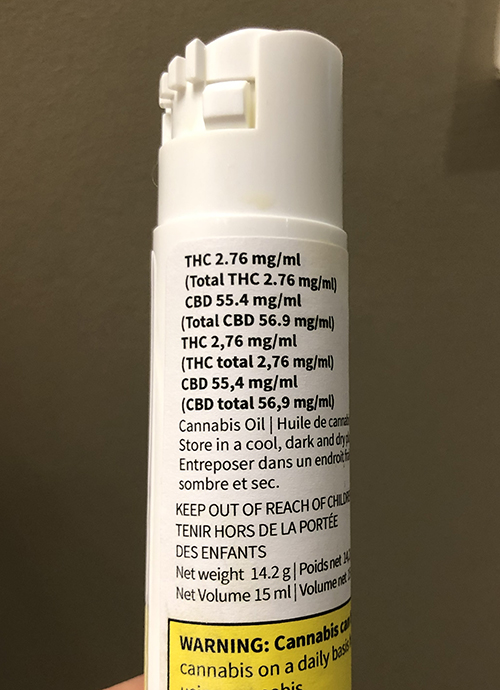 With a 10-20mg dosage of CBD, I would be getting between 0.42-0.76mg of THC per serving.
To feel any effects from THC I usually need at least 2mg of THC from oil, so this product would be a strictly CBD oil in my case (unless I bumped up the CBD dosage to closer to the 55mg per ML).
My Experience With HEXO'S Elixir CBD Oil
This CBD oil cost me over $130, but it was my only option at the time (every other CBD oil was sold out).
Although the price is high, if I wanted a 10mg dose of CBD daily I would get roughly 75 days of use with this oil, so I was OK with paying that price at the time.
Using an oil dropper sounds a bit messier than a spray bottle, so I was excited to give this a try.
I opened it up and sprayed it under my tongue… only to have the oil splatter back out of my mouth and all over my bathroom counter.
Be careful – the spray comes out fast and if your mouth is open it will spray back out of your mouth.
OK, just close your mouth when spraying it in there – sounds easy enough.
Unfortunately when you do that it sprays back on the bottle and the bottle gets a bit messy.
It seems like HEXO realizes this, as they suggest wiping down the nozzle to remove any remaining liquid after each use.
To me this is just a waste of the CBD oil – no matter how small the amount.
While I thought the spray bottle would be easier than using a dropper, it turned out the opposite was true. The spray bottle is messy and I would choose the dropper over it any day of the week.
After letting the oil sit under my tongue for a minute or two and swallowing I did end up enjoying the product. I use CBD mainly for anxiety and it seemed to help make me feel a little more calm throughout the day.
HEXO CBD Oil Taste Review
With the HEXO CBD oil, you will get your regular marijuana based CBD oil taste, but it isn't too strong.
I'd say the taste was one of the more mild CBD oils I've tried, most likely because it isn't a full spectrum CBD oil (terpenes removed).
HEXO may also have added some peppermint oil to the CBD oil to help with the taste, as their website states it contains "MCT oil or MCT oil & peppermint oil".
I will give them good ratings on the taste test, as I don't think many people would have a problem letting it sit under their tongue for a few minutes and then swallowing.
Like with all CBD oils, you won't taste much until you swallow and the taste doesn't last too long. If you're worried about CBD oil tasting bad, you shouldn't – it's nothing too bad at all.
I Would Recommend HEXO CBD Oil If:
You want a potent CBD oil (55mg/ml)
I Wouldn't Recommend The HEXO Elixir CBD Oil Oral Spray If:
You don't want a messy experience
You are looking for a high from the THC
You want a cost-friendly CBD oil
HEXO CBD Oil Recap
As you can probably tell from this review, I'm not a huge fan of the HEXO CBD oil oral spray at all.
I did purchase it twice, but that was only because OCS.ca was sold out of any other CBD oil and it was the only option available to me.
Not only is this oil expensive, but it's also a pain in the spray bottle (in my opinion at least).
I don't have any problems with the actual oil, but the price and the spray bottle will have my looking elsewhere.
If you're looking for a low THC CBD oil I would recommend checking out my review on the Solei Free CBD oil that I wrote a few months ago.
Make sure you bookmark my website, as I will have more CBD oil reviews coming shortly!